Brows, Lashes and Skin Revision
Brows, Lashes and Skin Revision
Brows, Lashes and Skin Revision
Brows, Lashes and Skin Revision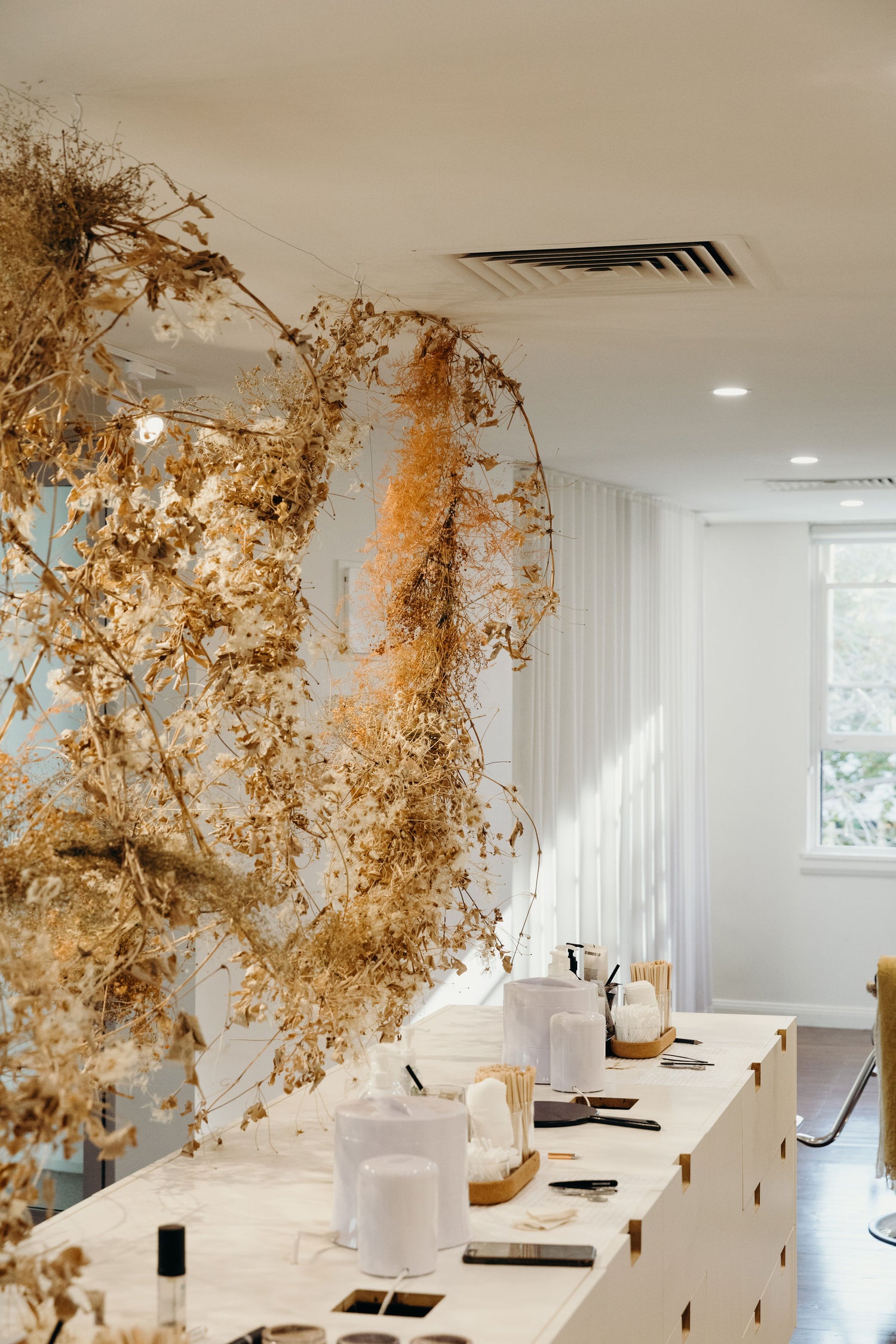 Work Alongside Us.
We want to share our oases with YOU.
We welcome creatives/likeminded humans to work alongside us in our Manuka studio; health & wellness professionals, beauty technicians, tattoo experts, artists alike, small ecommerce business owners, photographers etc.
The Bays.
2x light soaked private rooms available on Sundays, Mondays & Tuesdays with storage, a working bench and beautiful heritage windows looking onto the street.
1x private room available on Sundays, Mondays and Tuesdays with storage, a working bench, and sink.
2x chairs available in our open plan studio for makeup artists, brow technicians and hair stylists. Available 7 days a week working alongside our brow team. the studio offers a lot of natural light and is a very fluid and communal space.
All bays are available for permanent residency or short-stay.
The Hire.
Full studio hire available for photoshoots and events upon request. (Full day and half day flat rates.)
- Please email Hannah@the-lab.com.au or DM our instagram account @itsthelab for all enquiries. We'd love to have you!!! -
Work With Us.
We are looking for amazing humans to join our small team of dedicated beauty gurus!
We are seeking experienced humans in the following roles across both our Canberra and Bondi locations:
Brow Specialist
Lash Lift Specialist
Administrative Manager 
Creative and Marketing operations manager 

Us.
From humble beginnings The Lab has grown to become Canberra's ultimate beauty destination. We are proud of our standing in the Canberra community and our unique approach to beauty and business. We specialise in brow sculpting, lash lifts and skin health. We believe in elevating our client's natural beauty in a fun and supportive environment.
Our clients are our favourite people, we live to give them confidence in their own beauty. The foundation of our fantastic culture is our values – inclusive, fun, authentic and educational.
We offer:
Above award pay
4 day working week
Certain positions are available to work remotely. 
A great work environment in a friendly team
High quality & extensive training and continual development
FRIDAY LUNCHES
Great banter
You.
You are committed to a career in the beauty industry. You want to push the boundaries of the industry and love working in a small team. You have a passion for service delivery, you want the best for your clients and know that sometimes that means going above and beyond.
You have experience in one or more of the above roles and hold a diploma level or certificate IV level qualification in the given area.
 You understand that a reputation like the Lab's is precious and requires hard work and dedication to your craft to maintain. 
You understand the value of your time and that flexible working conditions are key.  
The Role.
We are friendly and fun, but we work hard in a fast-paced environment. 
Experience would be great and is preferred, but we understand everyone has to start somewhere and are willing to train if you're the right person!
We believe in long term career development. Ample training is provided in house and through external training providers during the duration of your employment. \We are dedicated to constantly helping you to learn and up skill in your craft. 
We acknowledge that diversity is something we need to improve on– so we want to encourage all eligible applicants to apply. If you think the application process is a barrier to applying we would be happy to talk through another application process that would suit you.
- Please email Hannah@the-lab.com.au or DM our instagram account @itsthelab for all enquiries. We'd love to have you!!! -
FAQs
How much do skin treatments cost?
Every treatment is individually tailored to support your skin and address your current concerns and condition. Your skin will tell a different story every time we see it so we make sure to perform a skin diagnostic each studio visit to ensure we are choosing the most beneficial treatment option for you on the day. 
Our revision based skin treatments can range from $250-$550
Our relaxation based skin treatments can range from $70-$270
When will I see results?
Unfortunately there is no definitive answer. Every individual skin type and condition responds differently and requires a customised and evolutionary approach. The outcome can also vary depending on individual circumstances and level of commitment.
What can I expect after my treatment?
Every individual will respond differently to each treatment but our skin specialist will take you through each possible outcome.
The following are completely normal responses to the introduction of active ingredients and treatments designed to clean, repair and rebuild your skin.
Redness
Breakouts or purging of the skin
Flakiness
Dryness
Tingling
Sensitivity
Other side effects may include an overall glow and general feeling of wellness, if symptoms persist - you're welcome :) 
Do I have to use your products?
We are more about the service then the sales and hate the hard sell but the results when treatments are combined with homecare is undeniable. Skin health and real, long lasting results are achieved through a partnership with yourself and your skin revision specialist. We believe that your results are achieved by 80% hard work put in at home using high quality skincare products and 20% hard work put in at the studio using high quality skin treatments performed by educated professionals.
We are not ones to align ourselves with just any brand. We have spent copious amounts of time researching a brand that will align with us and achieve real long lasting results for you. The DMK concept, coveted ingredient profile and holistic approach to skin health is why it is part of our curated and much loved collection. Products are available via prescription in studio,  unfortunately meaning they are not available for online purchase. 
What is Healite LED light therapy?
LED is a wavelength of light (made of photons: balls of energy) that is absorbed into the cells to regenerate and rebuild in order to reverse the signs of aging, promote collagen and elastin formation, improve mood and increase overall skin health.
What is DMK Enzyme Therapy?
DMK Enzyme Therapy is the only one of its kind in the world. Designed to rebuild your skin from the inside out utilising the body's own natural processes. The masque tightens as it dries, compressing the skin to strengthen and tighten underlying tissue. The mask's compressing action works to dilate your skins capillaries in order to feed fresh, nutrient rich blood to your cells whilst simultaneously back-flushing to clean out all toxins through the lymphatic system. This means happy, healthy, functioning cells resulting in fresh, healthy, youthful glowing skin on the surface. (This treatment is only available at our Canberra studio)
Do the Lab's skin treatments involve downtime?
DMK Enzyme Therapy and Healite LED light therapy treatments require zero downtime. Far from abrasive, ablative treatments, Enzyme and LED therapies are all about rebuilding and healing the skin.
Once your skin has begun to function optimally and is strong enough, a higher level of removal may be introduced including advanced exfoliations or skin needling. These treatments include a small amount of downtime from 3-5 days and will be explained in depth by your skin revision specialist. 
Can I receive a treatment while pregnant or breastfeeding?
Yes of course! Our treatments are 100% safe for any pregnant or breastfeeding women. The only things we would avoid during this period are Salicylic acid and Vitamin A (retinol) based products.
How long should I book in before my wedding?
ASAP! Depending on your skin goals we would recommend coming in at least 12 months before the big day or as soon as you can. Head to our blog page for a full description on our wedding packages from 12months prior to your big day, 6 months, or 1 month out!
Do you have afterpay?
Yes we do! We understand the financial commitment can be tough. We have introduced Afterpay exclusively for skin clients to enable everyone the opportunity to achieve their skin goals no matter their financial circumstances. #afterpayresponsibly
Do you have packages available?
We sure do! Chat in studio with one of our skin revision specialists about customised skin packages.
skin@the-lab.com.au
Do you do gift vouchers?
YES. Gift vouchers are available instore, online or over the phone.
Is there anything I need to do to prepare for the first treatment?
Nada. Simply come ready to chill, chat and glow (possibly also nap)
How often do I need to come back?
This varies depending on your skin condition and the results you are wanting to achieve. Your skin specialist will guide you toward the correct treatment frequency for you.